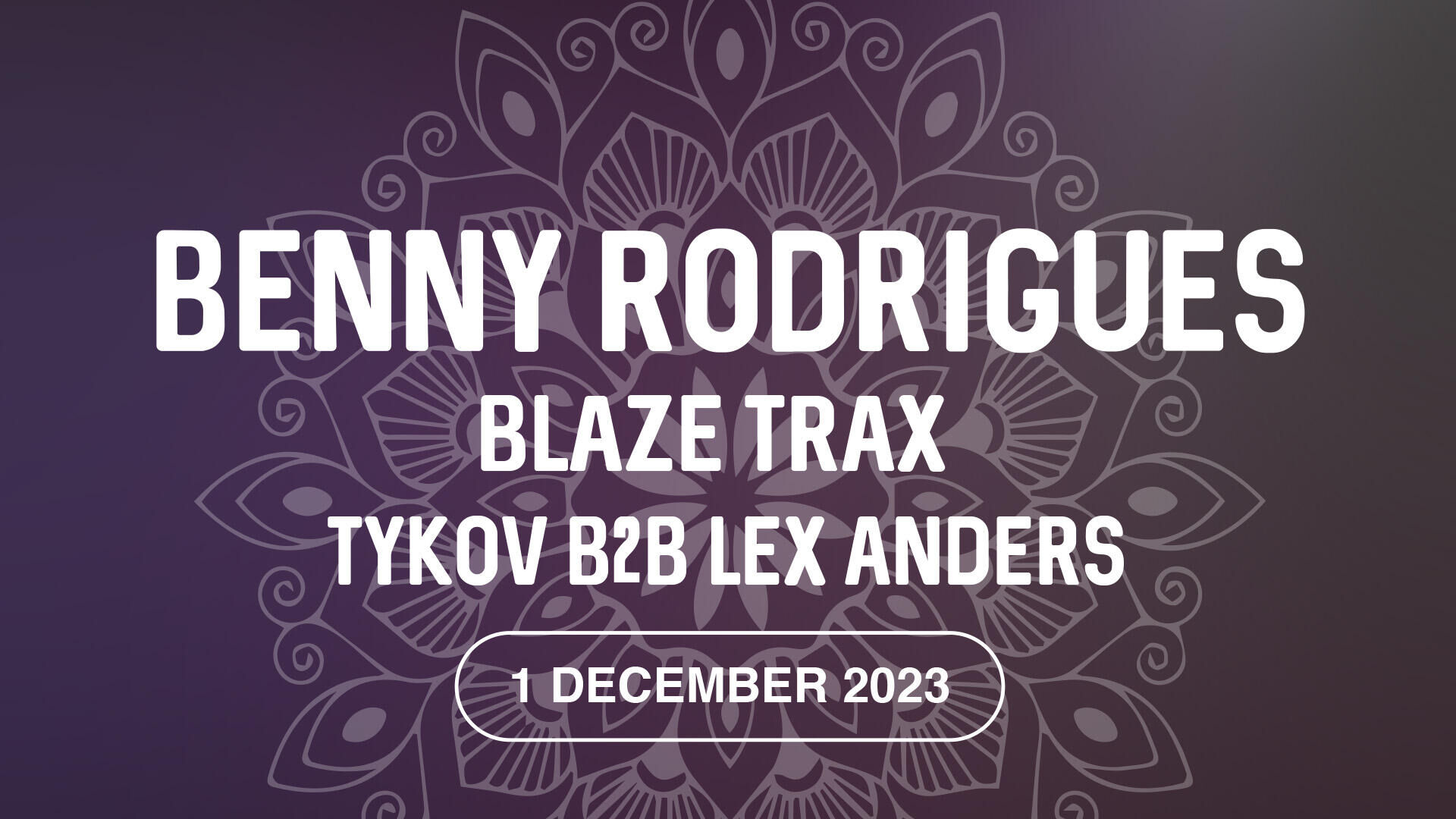 December 1st it's time to make our touchdown at one of the most solid audiovisual club spaces of the southern region.
Crisp sound and a soothing vibe is what we aim for- and you will be rewarding all of your senses this night.
This time we are bringing the one and only, the G.O.A.T. of the Dutch Underground music scene Benny Rodrigues to the stage, with resident Blaze Trax and renowned diggers Lex Anders & Tykov in a 2 hour B2B session.
We've also got something nice for everyone in store to make this one of the most exciting club nights of the year.
Trust us, this is going to be a good one.
Tell your friends, hype up your squad and start your December in ultimate fashion.
Love,
Adoda Music

▬▬▬▬▬▬▬▬▬▬▬▬▬▬▬▬▬▬▬▬▬
◆ Line-up ◆
BENNY RODRIGUES
BLAZE TRAX (Adoda Music)
LEX ANDERS (Humanising) B2B TYKOV (Trickpony)
▬▬▬▬▬▬▬▬▬▬▬▬▬▬▬▬▬▬▬▬▬
◆ Tickets ◆
For the very early deciders: SOLD OUT
Early Birds: €17,-
Regular Birds: €20,-
Late Birds: €22.50
▬▬▬▬▬▬▬▬▬▬▬▬▬▬▬▬▬▬▬▬▬
◆ Socials ◆
▬▬▬▬▬▬▬▬▬▬▬▬▬▬▬▬▬▬▬▬▬
𝑂𝑢𝑟 𝑚𝑖𝑠𝑠𝑖𝑜𝑛 𝑖𝑠 𝑡𝑜 𝑐𝑟𝑒𝑎𝑡𝑒 𝑎 𝑤𝑎𝑟𝑚, 𝑠𝑎𝑓𝑒 𝑎𝑛𝑑 𝑡𝑟𝑢𝑠𝑡𝑒𝑑 𝑒𝑛𝑣𝑖𝑟𝑜𝑛𝑚𝑒𝑛𝑡 𝑡ℎ𝑟𝑜𝑢𝑔ℎ 𝑎 𝑢𝑛𝑖𝑞𝑢𝑒 𝑒𝑛𝑒𝑟𝑔𝑦 𝑜𝑛 𝑡ℎ𝑒 𝑑𝑎𝑛𝑐𝑒 𝑓𝑙𝑜𝑜𝑟 𝑎𝑛𝑑 𝑎 𝑓𝑜𝑐𝑢𝑠 𝑜𝑛 𝑡ℎ𝑒 𝑐𝑜𝑚𝑚𝑢𝑛𝑖𝑡𝑦 𝑡ℎ𝑎𝑡 𝑓𝑖𝑙𝑙𝑠 𝑡ℎ𝑜𝑠𝑒 𝑑𝑎𝑛𝑐𝑒 𝑓𝑙𝑜𝑜𝑟𝑠.
𝐴𝑑𝑜𝑑𝑎 𝑖𝑠 𝑎𝑙𝑙 𝑎𝑏𝑜𝑢𝑡 𝑐𝑟𝑒𝑎𝑡𝑖𝑛𝑔 𝑚𝑜𝑚𝑒𝑛𝑡𝑠 𝑡ℎ𝑎𝑡 𝑝𝑒𝑜𝑝𝑙𝑒 𝑙𝑖𝑣𝑒 𝑓𝑜𝑟 𝑎𝑛𝑑 𝑡𝑎𝑙𝑘 𝑎𝑏𝑜𝑢𝑡. 𝐺𝑖𝑣𝑖𝑛𝑔 𝑦𝑜𝑢 𝑡ℎ𝑒 𝑓𝑒𝑒𝑙𝑖𝑛𝑔 𝑡ℎ𝑎𝑡 𝑡ℎ𝑒𝑦 𝑎𝑟𝑒 𝑝𝑎𝑟𝑡 𝑜𝑓 𝑡ℎ𝑒 𝑤ℎ𝑜𝑙𝑒, 𝑎𝑛𝑑 𝑔𝑖𝑣𝑖𝑛𝑔 𝑦𝑜𝑢 𝑡ℎ𝑒 𝑜𝑝𝑝𝑜𝑟𝑡𝑢𝑛𝑖𝑡𝑦 𝑡𝑜 𝑡𝑎𝑘𝑒 𝑝𝑎𝑟𝑡 𝑖𝑛 𝑎𝑑𝑑𝑖𝑡𝑖𝑜𝑛 𝑡𝑜 𝑡ℎ𝑖𝑠 𝑓𝑒𝑒𝑙𝑖𝑛𝑔.
𝑀𝑎𝑘𝑖𝑛𝑔 𝑝𝑒𝑜𝑝𝑙𝑒 𝑟𝑒𝑎𝑙𝑖𝑧𝑒 𝑡ℎ𝑎𝑡 𝑤ℎ𝑒𝑛 𝑡ℎ𝑒𝑦 𝑑𝑜𝑛'𝑡 𝑡𝑎𝑘𝑒 𝑡ℎ𝑒𝑚𝑠𝑒𝑙𝑣𝑒𝑠 𝑎𝑛𝑑 𝑜𝑡ℎ𝑒𝑟𝑠 𝑠𝑜 𝑠𝑒𝑟𝑖𝑜𝑢𝑠𝑙𝑦, 𝑡ℎ𝑒𝑦 𝑐𝑎𝑛 𝑜𝑝𝑒𝑛 𝑢𝑝 𝑎𝑛𝑑 𝑐𝑜𝑛𝑛𝑒𝑐𝑡 𝑤𝑖𝑡ℎ 𝑒𝑎𝑐ℎ 𝑜𝑡ℎ𝑒𝑟 𝑚𝑜𝑟𝑒 𝑒𝑎𝑠𝑖𝑙𝑦.
𝑃𝑒𝑜𝑝𝑙𝑒 𝑚𝑎𝑘𝑒 𝑡ℎ𝑒 𝑝𝑎𝑟𝑡𝑦, 𝑤𝑒 𝑚𝑒𝑟𝑒𝑙𝑦 𝑓𝑎𝑐𝑖𝑙𝑖𝑡𝑎𝑡𝑒 𝑡ℎ𝑒 𝑒𝑛𝑣𝑖𝑟𝑜𝑛𝑚𝑒𝑛𝑡 𝑓𝑜𝑟 𝑡ℎ𝑒𝑠𝑒 𝑝𝑒𝑜𝑝𝑙𝑒. 𝑊𝑒 𝑙𝑖𝑘𝑒 𝑡𝑜 𝑝𝑢𝑙𝑙 𝑜𝑢𝑟 𝑣𝑖𝑠𝑖𝑡𝑜𝑟𝑠 𝑜𝑢𝑡 𝑜𝑓 𝑡ℎ𝑒𝑖𝑟 𝑏𝑢𝑏𝑏𝑙𝑒, 𝑚𝑎𝑘𝑖𝑛𝑔 𝑡ℎ𝑒𝑚 𝑓𝑒𝑒𝑙 𝑚𝑜𝑟𝑒 𝑐𝑜𝑛𝑛𝑒𝑐𝑡𝑒𝑑 𝑤𝑖𝑡ℎ 𝑜𝑛𝑒 𝑎𝑛𝑑 𝑎𝑛𝑜𝑡ℎ𝑒𝑟. 𝑇ℎ𝑖𝑠 𝑐𝑜𝑛𝑡𝑎𝑔𝑖𝑜𝑢𝑠 𝑒𝑛𝑒𝑟𝑔𝑦 𝑐𝑟𝑒𝑎𝑡𝑒𝑠 𝑎 𝑢𝑛𝑖𝑞𝑢𝑒 𝑎𝑡𝑚𝑜𝑠𝑝ℎ𝑒𝑟𝑒 𝑎𝑛𝑑 𝑡ℎ𝑒𝑟𝑒𝑓𝑜𝑟𝑒 𝑜𝑢𝑟 𝑔𝑜𝑎𝑙 ℎ𝑎𝑠 𝑏𝑒𝑒𝑛 𝑎𝑐ℎ𝑖𝑒𝑣𝑒𝑑.